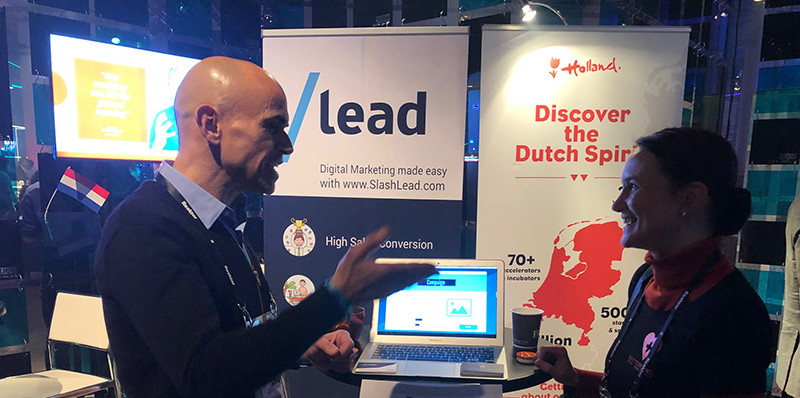 'What is SlashLead? 'Interview with Founder Fabian Stenger
by
SlashLead
| Posted on January 17, 2019
Companies embrace new customers with open arms (and often with gifts, too). But once they are 'in', this focus often rapidly wanes due to lack of both time and means. Because of this, entrepreneurs miss out on revenue and put customer loyalty at risk. SlashLead, the first 'Customer Attention Platform' in the world, provides a solution for this problem.
What exactly is SlashLead?
Answer: SlashLead is an online platform from the Netherlands via which SME entrepreneurs or sales managers themselves can easily and within just minutes launch a personalised online sales campaign, without involving IT or creative agencies. They can hereby give their existing customers the attention they deserve. SlashLead in this way saves costs, stimulates sales, and reinforces customer loyalty.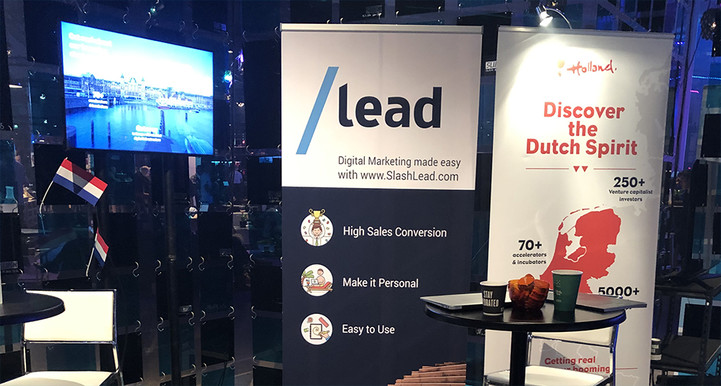 How does it differ from similar solutions?
Answer: Sales campaigns via 'traditional' e-mail marketing solutions usually require multi-disciplinary teams. Marketers deal with segmentation and 'messaging', and creative agencies ensure there is an appealing landing page. And the IT department has to make sure that everything works. This makes effective sales daunting and costly for small SMEs.
SlashLead approaches things differently. The solution focuses solely on giving attention to the existing customer base. Moreover, the platform is much more user-friendly than traditional marketing solutions. Thanks to easy templates and wizards, anyone can launch a sales campaign without any help from others and within just minutes.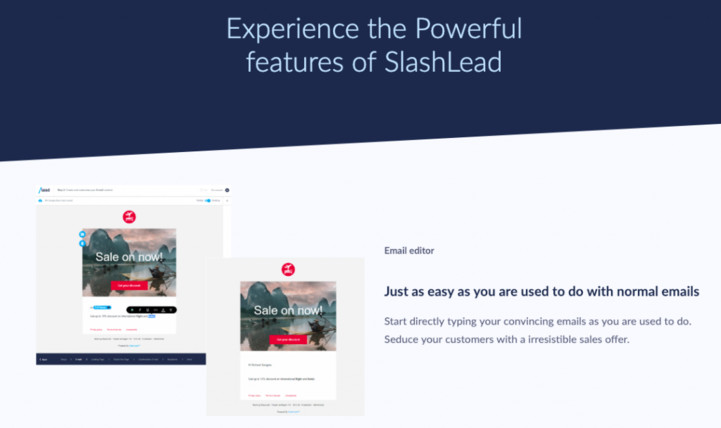 What are SlashLead's features?
Answer: A wizard guides you through the entire sales campaign process step by step, from creating a personalised e-mail to designing a landing page. The platform obviously also provides in matters such as adjustable confirmation e-mails and a thank you page. You have actual insight into the results during the whole campaign.
SlashLead also offers segmentation possibilities in the follow-up. Via a personalised message, you can separately approach customers that do not respond, those that just visit the landing page, and those that do decide to purchase.
SlashLead: give existing customers the attention they deserve
Who is the tool mainly intended for?
Answer: SlashLead is interesting for any SME entrepreneur, sales manager, consultant or self-employed person that wants to cost-effectively enhance customer retention and increase sales. Thanks to its user-friendly setup, SlashLead requires no technical knowhow or other special skills.
How can companies generate more turnover with SlashLead?
Answer: With SlashLead, enterprises can send a personalised, relevant and identifiable sales message or offer to a segmented target group. Companies can in this way also give their existing customer base the attention that is often only given to new customers.
What are the tool's benefits?
Answer: SlashLead offers a significantly higher conversion compared to a classic e-mail marketing solution. Where e-mail marketing tools usually have a return of 1-3%, SlashLead, with a return of 15-18% and exceptions of 23%, achieves considerably better results*.
Answer: SlashLead also saves time. Setting up a sales campaign does not take the usual 3 to 4 weeks, as with this solution it takes just a few minutes, without having to depend on a creative agency or IT department.
SlashLead finally also increases customer loyalty, as giving attention is much easier and quicker with the tool than via traditional methods.
* Numbers are based on those of current users of the solution and campaigns developed by Araneum for larger companies based on the SlashLead principle (attention campaigns for existing customers).
How much does SlashLead cost?
Answer: SlashLead is offered in a subscription format. The entry-level subscription is free of charge, and can be used to serve at the most 25 customers via one single campaign. This option is highly suitable for the self-employed and non-profit organisations. The Excellent plan costs 49 euros per month. Specific price agreements are made for large volumes. Each subscription starts with a free and non-binding 14 day trial period. The exact differences can be found on this overview page.
Which enterprise is behind SlashLead?
Answer: SlashLead is a spin-off of Araneum. This Dutch company has already been producing online software applications and marketing platforms for the corporate market for 19 years. Their customer base includes Shell Benelux, Nuon, Vopak, and Canon-Europe.
Araneum has used experience in the corporate market to establish SlashLead. In the hundreds of mailing campaigns realised for their customers, they had to keep reinventing the wheel, whilst in the basis the processes were continuously identical. They generalised this standard flow in SlashLead and made it available for smaller organisations.
How much can companies save with SlashLead?
Answer: A regular mailing campaign soon costs anywhere between 8,000 and 10,000 euros. These costs are mainly caused by the time invested by different actors. Launching a campaign with SlashLead costs just a fraction of this amount.
Will my mail not end up in the spam box when using tools like this?

Answer: Albeit present, there is very little chance of this happening. Excellent package users receive personal support from the SlashLead team to prevent a spam label. With the smaller packages, the volumes are usually too small to be considered as spam. The risk can in all cases be minimised with several technical settings.
Which analysis and follow-up possibilities does SlashLead have?
Answer: SlashLead contains various ways to measure and adjust the effectivity of campaigns, as well as for an effective follow-up. The platform shows which customers open the offer, who clicks on the landing page, who sees the form, and who finally takes up the offer. Based on this information, the user can download a segmented address database with a click of a button. This file can subsequently be used for new campaigns or for sending out paper mailings.
Are the sales campaigns responsive?
Answer: Absolutely. Anything generated by the user with SlashLead has a 'responsive design', and therefore adapts its design to the user's device. When creating a campaign, you can easily switch between the display on mobile devices and the desktop.
Does your solution meet European privacy legislation?
Answer: Our focus and target group is the entrepreneur that wants to focus more on existing customers, customers that he or she has already communicated with before. Customers that wish to receive e-mails should have already given their permission for this. The customer can at any time immediately unsubscribe and will then no longer receive emails. Details on how SlashLead processes data are described in the privacy declaration statement that users agree to beforehand.
What are SlashLead's plans for the future?
Answer: SlashLead has strong global growth ambitions. The platform is developed based on the newest technology from Amazon (Serverless Lambda), which makes the solution unlimitedly scalable. With regards to functionality, the company is currently working on a link with several CRM systems, including Teamleader and Pipedrive/Salesforce. This should further accelerate the platform's adoption and increase its ease of use.
Related Posts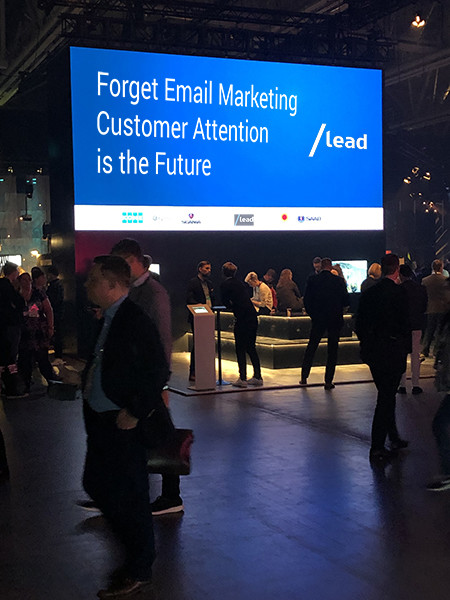 Out of many applications filed at the Netherlands Enterprise Agency (RVO.nl) we were one of the 14 selected high potential startups from The Netherlan [...]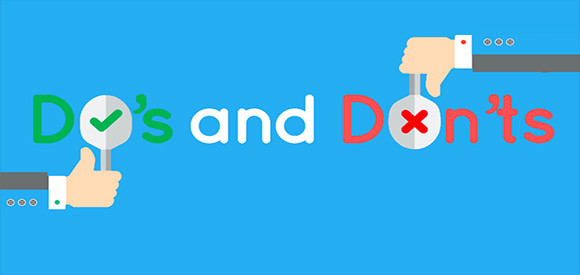 The landing page is one of the most important aspects of your marketing and sales campaign. Without a fortunate, high-converting landing page, you mig [...]